Become the star of any show!
Be the life of the party!
This is one of the coolest things we have ever sold!  This mask covers your entire face and you can literally change to any face you'd like!  Choose from one of the many animated and still photos built in or upload your own.  That's right, you can snap a photo of your buddy and display it on the mask to freak them out!  Scroll a custom message, display patterns that react to music and so much more!  Control with button on mask, with hand gesture or over Bluetooth with an app for both iOS and Android.  The app is totally free, no strings attached!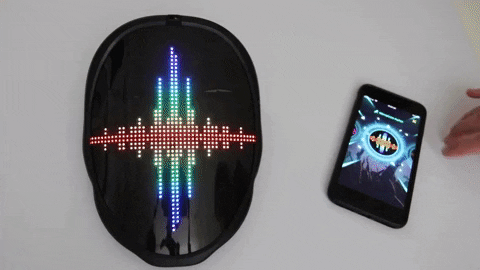 One mask; many faces!
Our RGB Bluetooth light mask is the ideal light-up accessory for your upcoming events. It's a great replacement for the frustrating and boring masks, and the perfect way to add a very cool touch to any environment. You may not be the main character of your life… but you sure can be!
Where sophistication meets versatility!
It's been 8 years since the creation of the first RGB LEDs and it's time to bring our creations to a new level. Our RGB Bluetooth light mask is small and bright, perfect for wearing on the face without any discomfort, and allows you to showcase interactive animations.
You can't stop shining!
We're bringing the entire world of digital media into the palm of your hands! Our RGB Bluetooth light mask is easy to use and connects quickly with smartphones and tablets. The best option for any lighting needs, this RGB-based accessory is an affordable way of outshining any event and making a statement.
Take it anywhere you want to!
Get following and people will follow you! We've got you covered with our RGB Bluetooth light mask; the perfect accessory for your costume needs. Whether you're at a Halloween party, birthday celebration or a rave, the mask is convenient to carry anywhere you want to.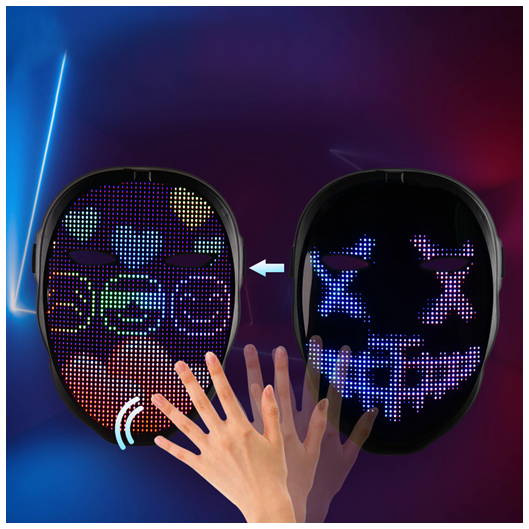 Make a statement…
You've been wearing white or black latex football helmets all your life, but now you want to show off your unique style something more creative. When you walk into a room, you'll be the centre of attention and your audience will automatically take notice. Our RGB Bluetooth light mask helps you get noticed, so you can get more done in less time! Whether you're wearing it to the office, to a party, or around town, this mask will help you express yourself better!
Features:

Universal Use: Get your hands on the mask that will be perfect for any occasion from cosplay, costume parties, Halloween, raves, festivals, Christmas, carnivals to casual use
Comfort: We made it a priority for our Luminous Mask(LED MASK) to be cozy for the user. By implementing soft silicone padding for your eyes. Breathe with ease and adjust the size to your liking  
App-Controlled: Download the "Shinning Mask" app to get access to a variety of animated presets including seasonal and abstract geometry panels. Using the app you can also upload your own images for endless possibilities 
Programmable Modes: After connecting the Mask using the app, you can set it to a Single Color, Flash, Gradient, Smooth, And Multi-Color. You can also upload pictures, Static Text, set a variety of presets, and sound or music frequency display
FAQ:
What does the package come with? 
1x Luminous Mask(LED MASK)
1x USB Type-C Line
How long does charge time last?
An estimated time of up to 12 hours and 5 hours for a full charge
Can this be seen in the daytime?
With over 2000 LEDs the mask can be seen in daylight and nighttime
Can you upload GIFs or Videos?
As of right now GIFs and Videos are not supported currently however, the mask does support images and text programming
Can you play sound or music on the mask?
The mask doesn't play sound or music. It uses your phone's microphone to pick up external sound to "sync" the visuals displayed on the mask
Here at Gift Hub, we believe in our products and serving our customers with a quality experience with us therefore we offer a

 

30 Day Money Back Guarantee, which means that you will be purchasing from us with

 

No Risk

 

involved.